Madaa Creative Center - Silwan recently concluded a "Photography - Creative Writing – and Design" course, which was held for 8 months, with the participation of nine students.
The course's supervisors explained that participants learned the rules of photography and its different types and produced many unique images; they also learned the basics of using a camera as well as the correct methods of taking pictures by phone. In addition they learned to write reports, articles and thoughts using creative writing which focused on the basics of writing and how to express what goes through their mind. Finally, the participants learned to design through the use of Photoshop program. They learned how to design logos, invitations and pages through the program.
During the course the participants produced a magazine for children; they have conducted numerous interviews on different topics of the magazine, they filmed the topics and designed the magazine pages. It is scheduled to be released in the upcoming weeks.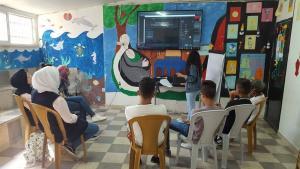 The course was concluded with an educational tour to implement what they have learned during the course, where they went to a group of displaced villages accompanied by a tour guide, they visited the villages of Beit Jibreen, Der Jamal, Zakariya Village, Ashou' Village, the village of Deir Amer, Souba and Al Qastal. They got to know the history of the villages, their schools, mosques, and squares, during which they took pictures and recorded the information that the tour guide gave them, because the displaced villages is going to be one of the topics in the magazine.