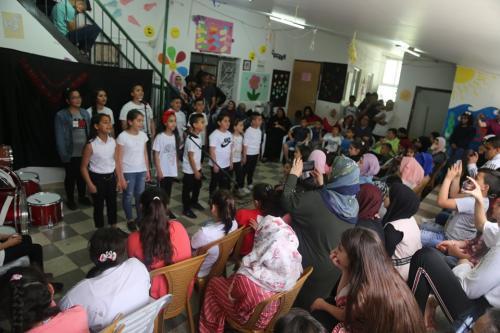 Madaa Creative Center - Silwan organized a celebration for the achievements of its children during the year and a "Sha'bouni" celebration in Wadi Hilweh Park in the village of Silwan with the participation of dozens of women, children and youth.
Deputy Director of Madaa, Sahar Al Abbasi, said: "At Madaa Center every year during the spring break we are used to organizing a celebration to show children's achievements in the different courses offered by Madaa Center to update parents on the development of their children's talents and to see their various shows. The ceremony coincided this year with the approach of the Holy month of Ramadan, and Labor Day, so the day included a dedication to employees and hard-workers."
The ceremony was opened with a variety of children's performances: "Chorus, Scouts, Dabke dance and rap", afterwards there was a speech given by the director of Madaa, Jawad Siam, where he promised the children who excelled in their achievements to be provided with support and assistance. Then the staff of Madaa presented a group of sport activities and competitions for the children. The day also included a group breakfast which was prepared by Madaa's Women group in addition to the "Silwan Reads" corner where children read a series of stories.