The Cultural Department at Madaa Center - Silwan organized a gathering to celebrate the graduation of groups of women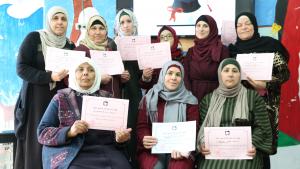 that completed the training course in computer skills, where 15 women from the town of Silwan and neighboring towns participated in the training that lasted three months with 40 training hours. The training dealt with the skills and basics of using a computer and focused on the use of the World Wide Web and Microsoft Word program to help their children with their school assignments.The course also focused on the safe use of computers and warning of cybercrime.
The trainer, Tala Sarhan said: "The training dealt with a variety of topics, the most important of which is how to help their children with school assignments and the safe use of the Internet. The department also plans on holding an advanced training for this group in the upcoming months".
The participant Hanan Maswadeh said: "from this course I learned how to deal with a computer, as it is my first time dealing with one", whereas the participant Wafaa Bamyeh said: "I used to feel ashamed when my children asked me for help with their school researches, now I am able to help them."
Computer Skills Training is one of the trainings organized by the Cultural Department at Madaa Creative Center for women; the department will organize an advanced training for these participants and launch new trainings for new participants.